Trusted + recommended by top canine fitness + rehabilitation experts worldwide
Balance Disc Product Guidelines
Congratulations on the purchase of your new FitPaws® Balance Training Disc.

Balance Discs come in two sizes and colors:

The FitPaws Balance Disc can be used for weight bearing activities and balance training for sporting and working dogs or for animal rehabilitation and therapy.
Inflation Tips
Balance Disc
Adjust the inflation of your equipment to match the fitness level of your dog: No air is great for puppies, seniors and dogs who generally need to improve proprioception/limb awareness (nubby side up). Medium inflation is a great overall place to start. Over-inflated provides a flat top for better foot placement and adds a level of difficulty to any exercise.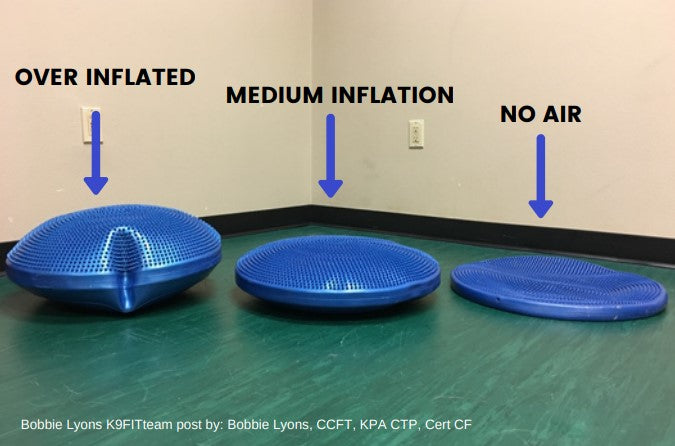 Inflate the Balance Disc slowly. If you start to see a divot/dent appearing, stop inflating and let it rest. Try to push the dent in to reshape the disc before continuing with inflation. We recommend inflating the Balance Disc slowly over a 24 hour time period.
14" Balance Disc Inflation Instructions
Inflate
Insert pump with needle attachment into the inflation hole (located on the top side of the 14" Balance Disc) and pump to desired inflation size.
Deflate - 2
First, remove the needle from the pump and insert the entire needle into the inflation hole on the Balance Disc.
Deflate - 2
Gently press down on the Balance Disc to release air to desired size. Once done, remove the needle and reattach it to the pump.
22" Balance Disc Inflation Instructions
Locate the pin on the sidewall of the Balance Disc and use the included tool to remove it.
Insert the pump with the cone attachment and inflate the Balance Disc.
Use your finger to cover the hole until you can re-insert the pin. Push the pin into the disc until it sits flush.
The sensory side of the Balance Disc provides neurosensory stimulation and additional grip ability for grip challenged dogs. The smooth side adds challenge to each exercise.
Did you know?
Sizing
The FitPaws® Balance Disc has both a 14" or 22" training surface option. If you want your dog to stand with all four feet on top of a disc, you may have to use more than one disc as you want your dog to have a natural stance without a hunched back. If your main use is for weight bearing activities, choose the disc size that is most appropriate to your dog's size so they can stand comfortable with 2 feet on the disc and 2 feet on the ground.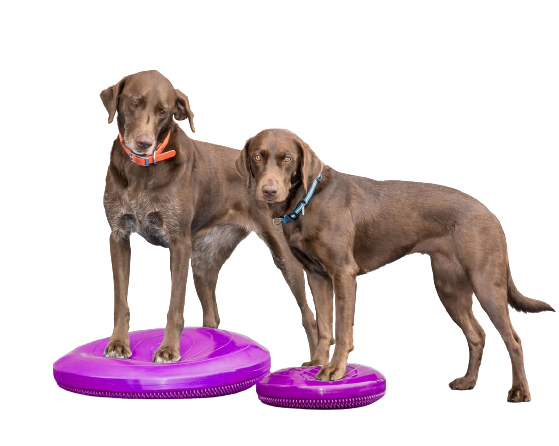 Ready to get started with your Balance Disc?
The Balance Disc is made for dogs. Sensory bumps provide neural stimulation, helping to improve your dog's weight distribution and limb awareness. Other benefits include:
Core strengthening
Balance training
Instability training
Improved coordination
Better joint health
Obedience training
Puppy confidence building