Trusted + recommended by top canine fitness + rehabilitation experts worldwide
Paw Pods Product Guidelines
Congratulations on the purchase of your new FitPaws® Paw Pods with anti-skid bottoms.

Paw Pods are an advanced training tool specially designed for dogs. Included in your purchase is four pre-inflated, 5" balance pods.

Sensory bumps provide neural stimulation, helping to improve your dog's weight distribution and limb awareness.

Anti-Skid bottoms aid in stability and reduce the risk of injury from slipping.
Usage Tips
Paw Pods
The level of difficulty of the Paw Pods can be easily adjusted by removing or adding air (as shown below).

Additionally, Paw Pods can be turned upside down for an advanced balance challenge; engagement of the core is essential for the dog to stay on the pods in this position.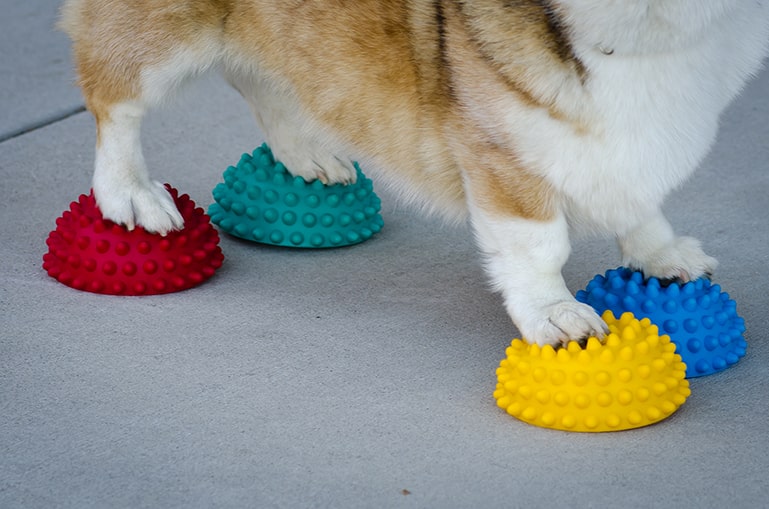 Paw Pods inflation/deflation instructions
Inflate
Insert pump with needle attachment into the inflation hole (located on the top of each Paw Pod) and pump to desired inflation size.
deflate - 1
First, remove the needle from the pump and insert the entire needle into the inflation hole on the top of each Paw Pod.
Deflate - 2
Gently press down on the Paw Pod to release air to desired size. Once done, remove the needle and reattach it to the pump.
Paw Pods can be used by dogs of all sizes. Begin by introducing your dog to the Pods positively then place them on the floor in the approximate foot position of your dog.
Ready to get started with your Paw Pods?
The FitPaws Paw Pods are made for dogs:
Advanced balance training and core strengthening
Individual limb strengthening/awareness and neurosensory paw work
Instability training
Improved coordination
Better joint health
Obedience training
Stacking training in preparation for conformation dog shows