Trusted + recommended by top canine fitness + rehabilitation experts worldwide
Targets Product Guidelines
Congratulations on the purchase of your new FitPaws® Training Targets.

The FitPaws Targets are made of a phthalate-free, flexible vinyl material that is soft to the touch and easy to clean.

Targets come as a set of four, with each target measuring 10" in diameter. Each package comes with two blue and two yellow targets - the colors dogs see best making them easy to distinguish for forelimb and hindlimb training.
Usage Tips
Targets
Place one Target on the floor and use a clicker or treat to guide your dog to the Target. Reward your dog when their paw(s) are on the Target. Finally, move the Target to a different spot and repeat the process above to teach your dog the game.

To increase the challenge and unlock more exercise/rehabilitation options, increase the number of Targets used and create an obstacle course or pair the Targets with other FitPaws equipment, such as the Balance Pad.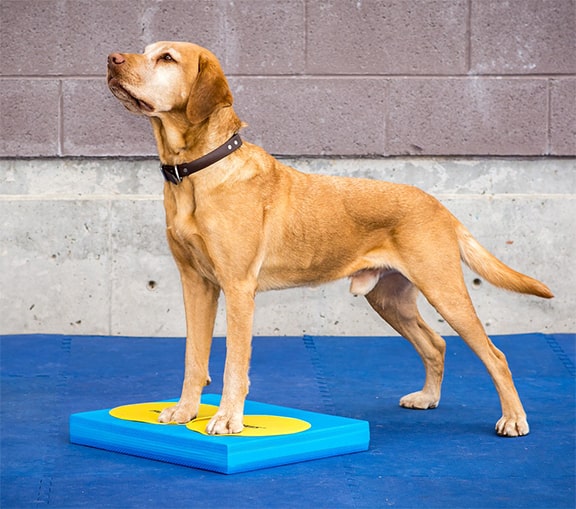 FitPaws Targets are ideal for initial low-impact balance and weight bearing exercises for dogs recovering from injury and dogs being introduced to new equipment.
Ready to get started with your Targets?
The FitPaws dog training Targets are a fun and engaging way to introduce your dog to the world of canine fitness. The versatility of the Targets makes them great for beginner, intermediate and advanced exercises. Benefits include:
Proprioception training
Conformation stacking training
Body and limb awareness
Improved coordination
Better joint health
Obedience training
Puppy confidence building