Trusted + recommended by top canine fitness + rehabilitation experts worldwide
FitPaws Peanut Product Guidelines
Congratulations on the purchase of your new FitPaws® TRAX Peanut.

FitPaws TRAX Peanuts come in 3 sizes (measured by the height of the Peanut while laying on its side, not length):

The combination of physical and mental exercises is absolutely critical for a well-balanced dog. The TRAX Peanut is a great way to exercise your dog mentally and physically at the same time.
Inflation Tips
TRAX Peanut
The size printed on the TRAX Balance Peanut is the maximum inflation height. This number should be used as a guideline. Never exceed the maximum inflation height. We recommend 95% of the maximum height as a good guideline for inflation.

TIP: Use tape or a pencil to mark the maximum inflation height of your TRAX Peanut on the wall. Inflate the Peanut to about 80-85% of the listed height and let rest for 24 hours. After 24 hours has passed, fill the Peanut to the recommended 95% - measured by the ball height, not the saddle height (as pictured).

For best performance and safety, you should be able to easily depress the surface by 2 inches. Slight variances are expected. If the surface tension is too high, release some air and allow the product to sit overnight.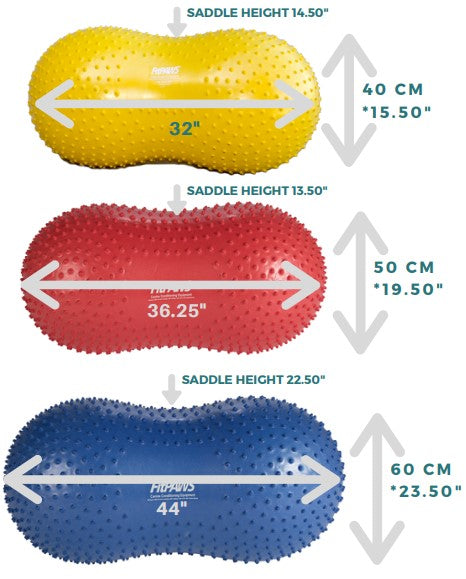 Peanut Inflation Instructions
Use the included tool to remove the plug located on the site of the TRAX Peanut.
Insert pump with cone attachment into the inflation hole and pump to desired inflation size.
Remove the pump and quickly place your finger over the hole to prevent the air from escaping.
Re-insert the plug you removed in step 1 and push it down into the product until it sits flush.
Instability training with the Peanut is a fun way to bond with your dog, teach them a new behavior and strengthen their core - the powerhouse of your dog's body.
Ready to get started with your TRAX Peanut?
The TRAX Peanut is made for dogs: burst tested to 330lbs. to ensure your dog can exercise safely. Sensory bumps provide neural stimulation, helping to improve your dog's weight distribution and limb awareness. Other benefits include:
Core strengthening
Balance training
Instability training
Improved coordination
Better joint health
Obedience training
Puppy confidence building